Cars
Auto Mart Information
By visiting Auto Mart's Cheap Cars section, a whole new world of motoring opportunities open up. We are aware that it can be a universe that attracts a small portion of unscrupulous sellers, but buying a cheap car does not have to be a bad experience if buyers put the right checks in place. This section caters to buyers with tighter budgets who are looking to get into the car market. Whether it's your first vehicle or another van to add to your growing company fleet, the world of cheap cars creates an opportunity for new car buyers to find exactly what they need.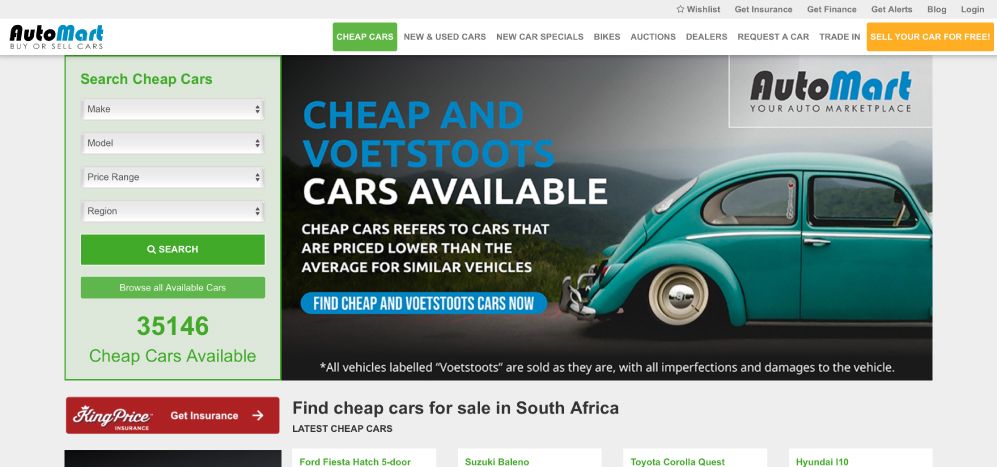 What cars are in the Auto Mart Cheap Cars section?
The Auto Mart Cheap Cars section is filled with over thirty thousand cars. These cars are categorised on the site and are either labelled "Low-Priced Item" or "Voetstoots Item".
"Voetstoots" refers to "sold as is" and is explained in the legal clause below. Our cheap cars are vehicles that are priced below the average market price, which we track across our platform.
"Cheap Cars" refers to cars across all the price brackets. So you might find a R750 000 car for sale in our cheap cars section, but that's because its listing price is cheaper than the average selling price of cars that are similar to it in its vehicle segment.
The voetstoots clause is a provision in the agreement which stipulates that the purchaser buys the "property" from the seller as it stands and thereby indemnifying the seller against claims for damages in respect of any defects on the item, whether patent or latent. - https://www.adams.africa/property-law/the-voetstoots-clause-what-to-know/
How to use the Cheap Cars search tool
The Auto Mart Cheap Cars search journey is the same as the user journey on our main listings pages. All our cheap cars can be initially filtered by make, model, price, and region. Once a user has performed an initial search, a secondary layer of filtering is offered for users who are looking for something more specific.
Filtering options available on the Cheap Cars section include:
Make
Model
Model Variant
Condition
Price
Shape
Region
Manufacturing Year
Drivetrain
Fuel Type
Transmission Type
Colour
Max Mileage
Is buying a Cheap Car safe?
Buying a cheap car is safe if you are informed about the purchase you want to make and perform the necessary checks before you hand over your hard-earned money. Our Cheap Cars section is filled with cars that are being sold by reputable group car dealerships, independent dealers, and a very big base of private sellers. When buying a cheap or "Voetstoots" car, make sure you are well prepared and know what you are getting yourself into.
Click here to read more of our buying and selling tips
With over thirty thousand cheap cars for sale on Auto Mart, getting into the car of your dreams for an affordable price is possible! Do your homework and you might just get the deal of a lifetime.