Back to Specials
1118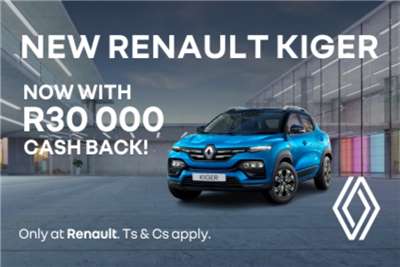 New Renault Kiger now with R30 000 CASH BACK!
Car details
*Get R30 000 CashBack
with the New Renault Kiger from only R4,099 p/m
*Renault Kiger 1.0l Energy Life
*Monthly installment: R4 099
*Deposit 0%
*Interest Rate: 13.90% Linked
*Months: 72
*Balloon: 40%
*Retail Price: R239 999
*Total Cost of Credit: R390 934.72
*General Image
*Terms and Conditions apply
Interest rate is linked to prevailing prime rate subject to change, deal subject to credit approval by MFC, a division of Nedbank Limited. Nedbank Limited is an authorised financial services provider. Nedbank Limited is a registered credit provider under the NCA (NCRCP 16). Price excludes an initiation fee of (R 1 207.50) and a monthly service fee of (R 69.08 p/m). Deal is for advertised specifications only, any additional accessories will be subject to separate terms and conditions. On road costs excluded. E&OE.
Valid till 30 November
*Terms and Conditions apply to all specials.
All car specials data including images, descriptions & pricing on Auto Mart is supplied by our advertising partners. Although we pride ourselves in supplying accurate data, images and pricing, neither Auto Mart nor our advertising partners may be held responsible for any errors that may occur. A detailed email will be supplied by Auto Mart and/or the relevant car dealer upon enquiring on any vehicle.
Success!
Thank you for your interest!
Your message has been submitted successfully
You have also created an alert
Success!
Thank you for your interest!
Your details have been submitted to the . You can contact the on the following number:
Already Contacted!
Thank you for your interest!
You have already contacted the for this vehicle.
View all our cars for sale in South Africa