Automotive Tips & Advice
Auto Mart Information
The advantages of shopping for cars on Auto Mart are numerous. Due to the rise of digital technology, there are now more ways than ever before to sell your vehicle, and it has become easier than ever before to do so. Want to enjoy the benefits as well? Search through various cars for sale on Auto Mart right now.
In this article, we will discuss the advantages/benefits of making a car purchase through Auto Mart Marketplace. But before we get into more detail, it's important to first understand what Auto Mart is.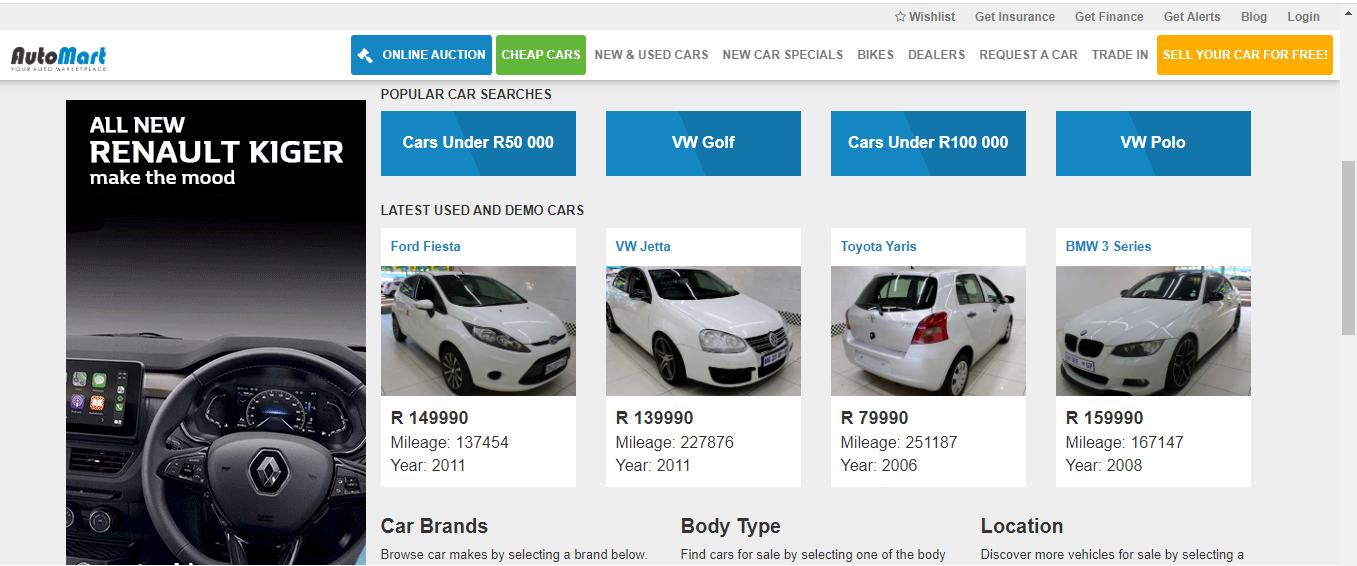 What is Auto Mart Marketplace?
Auto Mart is an online advertising platform that connects buyers and sellers. If you have a vehicle to sell, list it for free on our website and reach thousands of potential buyers.
If you're in the market for a new vehicle, you can easily find a variety of new and used cars for sale on our marketplace. With over 25 000 cars for sale, we are one of South Africa's largest online automotive marketplaces and one of the most affordable buy-and-sell sites for cars.
The advantages of shopping for a car on Auto Mart
There are many pros and cons to choosing to buy a car online. Although the in-person process used to be the preferred option, more people are expected to use online methods to purchase their vehicles.
Here are three key advantages to shopping for a car on Auto Mart:
- Convenience
The most important advantage of shopping for a car online is the convenience of having a wide variety to browse through without having to leave the comfort of your home. Depending on your needs, you will find both private sellers and verified dealers. Our network of over 200 dealerships ensures that any buyer looking for a new ride won't miss out on finding the exact vehicle they have in mind. In addition, users can make use of Auto Mart's trade-in option, which will directly connect them with sellers of the kind of vehicle they are interested in.
Auto Mart's website features a wide range of used and new cars for sale. It caters to the needs of its users by covering every aspect of the car industry in South Africa. Auto Mart is a resource for potential car buyers that has various tools to help them find the ideal vehicle. Its contact methods are also easy to use, including a WhatsApp chat and an enquiry form.
- Variety
We have a wide variety of new and used cars for sale on our marketplace, making Auto Mart the easiest way to find a vehicle that fits your needs and budget. The cars listed on Auto Mart are categorised based on their make, model, price, year and more to make it as easy as possible to find the right car for you.
- Cost Savings
The most obvious advantage to finding your next car via Auto Mart is the ability to go through the entire process from the comfort of your own home. You don't have to spend money driving from dealership to dealership looking for the right vehicle. Online marketplaces have a wider reach and bring buyers and sellers from different regions together, creating a competitive environment where prices are constantly adjusted to meet market demand. This often results in lower prices for the buyer as the savings are passed on. The ability to compare prices, models, and features at a glance provides the buyer with more information to make an informed decision and gives them better negotiation power. Basically, the convenience, transparency, and competition make it a more cost-saving option for buyers. When you've settled on the one or two vehicles you like, only then can you get in touch with the sellers for more information and to arrange a viewing or test drive.
Shopping for a car on Auto Mart Marketplace provides buyers with a wealth of benefits and advantages. From the convenience of browsing from the comfort of your own home to the cost savings of having a wider reach and competitive pricing, Auto Mart has it all. With a wide variety of new and used cars for sale and easy-to-use search tools, finding the right vehicle for you has never been easier. So if you're in the market for a new car, why not start your search today on Auto Mart?