Quick Links:
Auto Mart is the most affordable and biggest online buy-and-sell automotive marketplace in South Africa. With over 100 000 vehicles to choose from, there is simply no other portal that offers the same amount of stock to a captive, in-market online audience.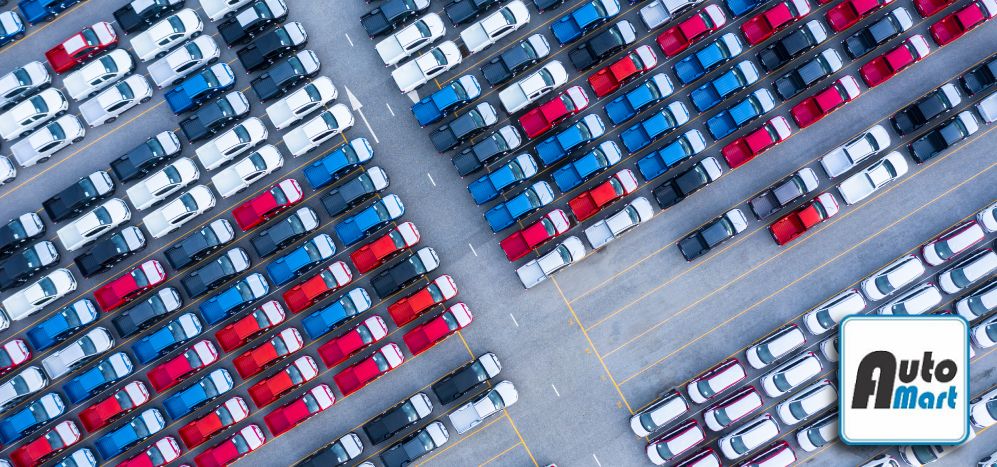 Our automotive listings marketplace allows Buyers, Sellers, and Traders to shop, market, and promote their automotive-related businesses and products to just under a million monthly visitors. We are also the most cost-effective automotive marketplace and believe every vehicle owner has the right to trade up or down.
For dealers wanting to list their products, our packages and online marketing products allow dealers to ensure their stock is advertised within the correct channels and to a wide audience scope that, in turn, delivers good, quality leads. We have a long and good standing record of doing exactly that for loyal customers who have used our platform since its inception.
We focus on providing a safe and reliable platform for ALL South Africans to trade in the automotive space. Our brand is well-established within the very competitive automotive sector and we provide a trustworthy, cost-effective, and reliable platform for business and private customers to trade on.
Which types of vehicles can you browse on Auto Mart?
The Auto Mart marketplace website offers a very broad selection of passenger vehicles and is equipped with the necessary user search functionality to make the buying and selling of vehicles a simple and easy process.
The site provides a host of additional automotive sub-categories that cater to other relevant automotive segments. It also offers its users a variety of related automotive products and services.
Auto Mart Sections & Tabs:
Users can search for new, demo, and used vehicles on our site. We also have a section dedicated to cheap cars and one for new car specials that are on promotion at dealerships across the country. Users who want to buy cars on auction can stay informed by visiting our auctions page. And because we are a marketplace for the masses, users can search for cars for sale from dealers and/or private sellers, depending on the users' personal preference.
We also have an entire segment dedicated to new and used bikes for sale in South Africa. With the same functionality as our car search tool, buying and selling a motorbike with Auto Mart is easy.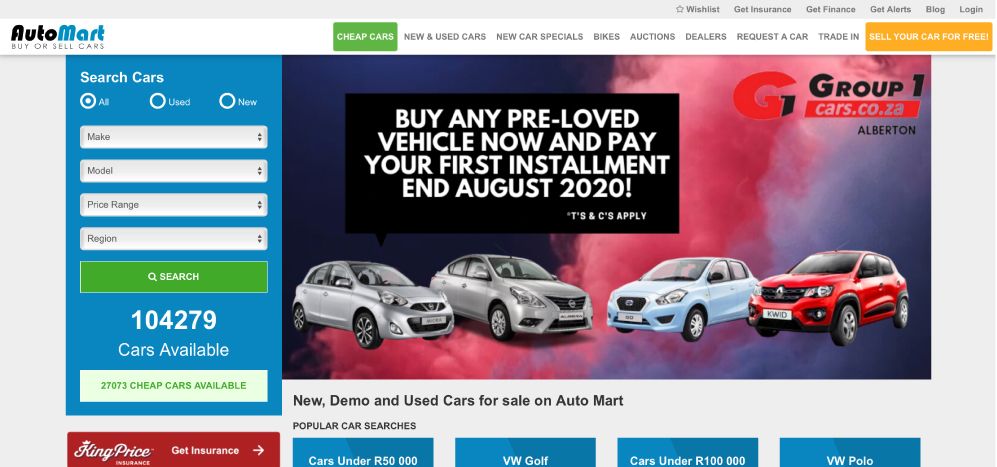 Related Products and Services Tabs
Automotive Insurance: Complete our online form and have an Auto Mart-approved insurance partner provide you with a competitive insurance quote.
Buyer Finance: Equipped with a finance calculator, users can assess what their car finance might cost them. The vehicle finance calculator can calculate what a buyer's approximate monthly payment could be.
Wishlists: Registered users of the Auto Mart website can build a Wishlist of their favourite cars. It's like building the garage or your dreams.
Get Alerts: Set up alerts with our alerts tool. By doing so, users can get FREE vehicle alerts sent directly to their inbox. Simply specify all the details of the car you are interested in and how often you want to receive your notifications and we'll do the rest.
Request a Car: Looking for a car and just don't have the time to search? By filling in our "Request A Car" form, users can reach out to all our registered dealers, detailing the specific vehicle they are after. Should a dealer have a match, the user will then be contacted.
Trade-In: Get the best possible trade-in value for your car. Once a user has completed this form, it gets submitted to the dealer base who in turn will make the user an offer based on the information provided and the relevant trade-in market values.
Sell Your Car For Free: Selling a car with Auto Mart is also a breeze and it's FREE for private sellers. With just under a million monthly visits, Auto Mart will help you find a buyer! Our online vehicle listing form is easy to use and quite self-explanatory and will put your car on offer to just under 1M users across South Africa.
With so many options to choose from and the widest range of vehicles, it's easy to see why you should visit Auto Mart today!