The Haval H1 has been welcomed by South African and international motorists alike. Its athletic good looks and capable performance set this crossover apart from the crowd. Whether you're exploring the city streets or tackling gravel roads, you can find the perfect ride on Auto Mart . Read our blog post to discover why this awesome crossover is so popular.
Photo Source: Haval South Africa
The Haval H1 Captivating exterior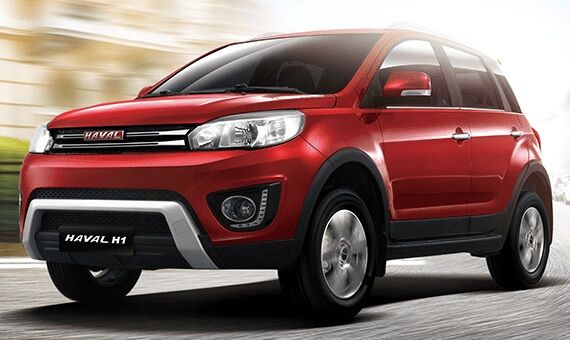 Photo Source: Haval South Africa
The Haval H1 boasts a captivating exterior that turns heads. Its bold personality gives this model a confident stance on the road, and with a length of under four metres, it's a compact crossover that is packed full of useful features. The H1 has a length of 3 961mm, width of 1 728mm and a height of 1 617mm. The wheelbase for this model is 2 383mm and it has a weight of 1 106kg. The H1 has a ground clearance of 180mm, which makes it suitable for travelling on gravel roads to destinations that are hard to reach with a regular car. The athletic good looks of this model are completed by 16-inch alloy wheels. The design detailing is just one aspect of this model that showcases the outstanding value for money that it offers. Fog lamps help to increase visibility in adverse weather conditions while Daytime Running Lamps enhance the safety of driving an H1. Skid plates add to the functionality of the H1 as well as elevating its aesthetic appeal. Roof rails offer additional storage space, which is useful for extra luggage on longer trips. With a choice of four vibrant colours, it's easy to customise your ride. Titanium White or Sky Silver add a touch of sophistication to your H1.
The Haval H1 Comfortable interior
With its comfortable interior, the Haval H1 makes it possible to get to your destination feeling relaxed. Its contemporary style is complemented by an athletic instrument cluster, which features overlapping dials. Another noteworthy component of the instrument cluster is its integrated digital speedometer display. The tidy black cloth upholstery is complemented with trim accents that enhance the premium appearance of the H1's interior. While the H1 has a compact design, it offers a spacious interior for a relaxing ride. These attributes make it the perfect vehicle for commuting in the city.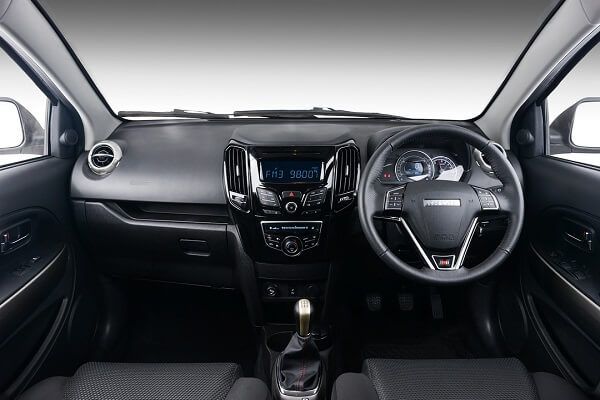 Photo Source: Haval South Africa
The H1 offers your practical features without compromising on style or comfort. With 310 litres of boot space, there is plenty of room for your luggage. Additional storage space can be created by folding down the back seats. The compact dimensions, combined with the increased ride height, resulting in superior visibility. With hydraulically assisted power steering, the H1 makes it easy to navigate the city streets. Air conditioning helps to maintain a pleasant interior temperature during the warmer months. The H1 is equipped with electric windows and mirrors to add to the convenience of driving this crossover. You can listen to all your favourite songs using the audio system, which boasts USB and Bluetooth connectivity. Manoeuvring into tight parking spaces is safer and easier with Rear Park Assist. Front cupholders add convenient storage space to the H1's interior. With cruise control, you can sit back, relax, and enjoy the ride.
Economical performance
The Haval H1 is equipped with a reliable 1.5-litre VVT-i engine. This inline-four cylinder engine has a cubic capacity of 1497cc. It has a maximum power output of 69.3 kW with a peak torque of 130 Nm. This model has a 5-speed manual transmission. The variable valve timing enhances the performance as well as the economy of the H1. This model has a fuel consumption of 7.2 l/100km and CO2 emissions of 172g/km. The maximum speed for the H1 is 170kph. It can accelerate from a standstill to 100kph in less than 10 seconds.
Innovative safety features
Equipped with plenty of safety features, the Haval H1 gives you peace of mind when you're travelling by road. This model is compliant with global safety standards. Dual front airbags reduce the risk of serious injury if a collision takes place. Another note-worthy safety feature is the ABS and EBD. This crossover offers safe transport for families and it's equipped with Isofix child-seat mountings. Families will also find the height-adjustable seatbelts and child locks advantageous. Your vehicle is protected from crime by a standard immobiliser. It's easy to secure your H1 with the remote control central locking.
Now that you know everything about the Haval H1 , you can find the perfect ride to suit your family's needs on Auto Mart.