The Kia Cerato design has long been admired for its combination of style, comfort, and performance. With its sleek lines and modern aesthetic, it is no wonder that this sedan has become a favourite among local drivers. Find a Kia Cerato for sale on Auto Mart and experience the exceptional craftsmanship that defines this remarkable vehicle.
Photo source: Mad4Wheels
An Alluring Exterior
The Kia Cerato's exterior design effortlessly captures attention with its sharp, dynamic lines and bold stance. The distinctive tiger-nose grille adds a touch of sophistication, while the LED headlights provide excellent visibility and enhance the car's overall aesthetic. The Cerato's alloy wheels not only look stunning but also contribute to a smoother and more responsive ride.
Inner Comfort and Style
Inside, the Kia Cerato emphasises passenger comfort and convenience. The spacious cabin offers ample legroom and headroom for all occupants, making long drives more enjoyable. The ergonomically designed dashboard puts all the essential controls within easy reach of the driver, and the high-quality materials used throughout the cabin create an inviting atmosphere.
The Cerato's infotainment system features a touchscreen display that supports Apple CarPlay and Android Auto, ensuring seamless integration with your smartphone. The audio system delivers crisp, clear sound, perfect for enjoying your favourite tunes on the road.
Efficient Performance
The Kia Cerato design ensures a smooth and efficient driving experience, thanks to its powerful engine and precise handling. The car's suspension system provides excellent ride comfort, while the responsive steering allows for easy manoeuvrability in tight spaces. The Cerato's fuel-efficient engine delivers impressive power without compromising on fuel economy, making it an ideal choice for both city driving and longer journeys.
The Kia Cerato includes numerous features that enhance your driving experience. Some of the standout features include:
Keyless entry and push-button start
Dual-zone climate control
Rearview camera with parking guidelines
Wireless phone charging pad
Heated and ventilated front seats
Luxurious Extras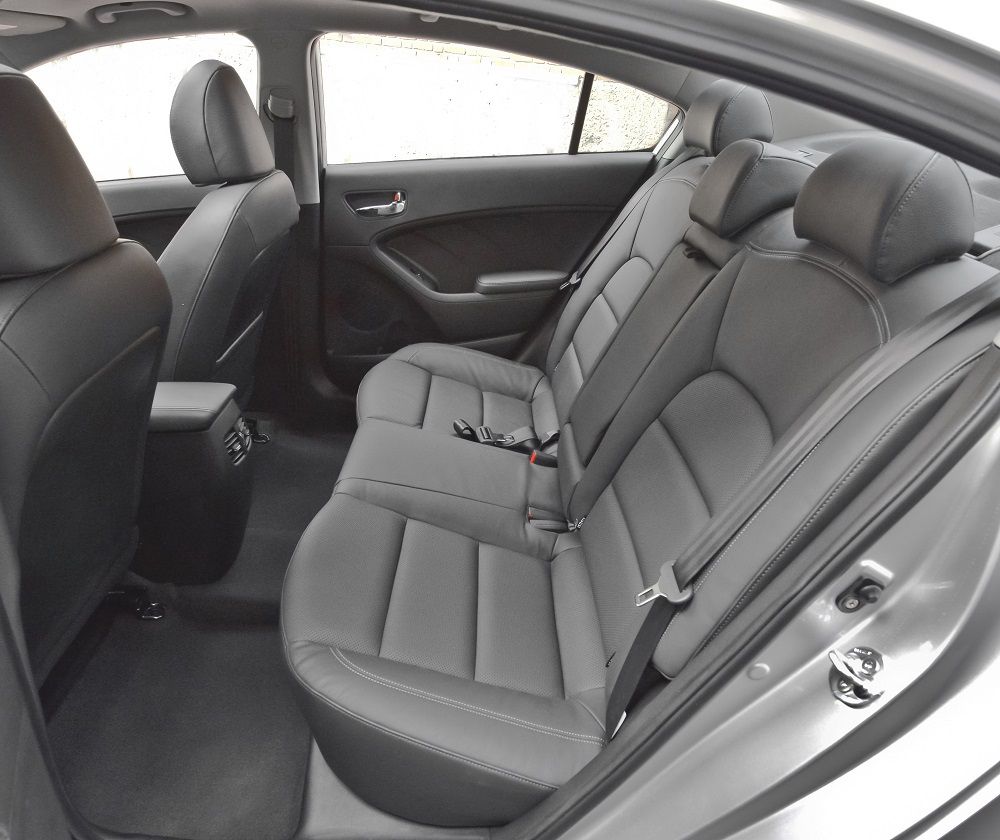 Photo source: Mad4Wheels
In addition to its standard features, the Kia Cerato design also offers several optional extras that elevate your driving experience even further. These include:
Panoramic sunroof
Leather-trimmed seats
Premium Harman Kardon audio system
Advanced navigation system
Adaptive cruise control
Safety First
The Cerato prioritises the safety of its occupants, featuring a range of advanced safety features. These include: Anti-lock Braking System (ABS) Electronic Stability Control (ESC) Forward Collision-Avoidance Assist (FCA) Lane Keeping Assist (LKA) Rear Cross-Traffic Collision Warning (RCCW) With these comprehensive safety features, you can drive with confidence, knowing that the Cerato is designed to keep you and your passengers protected.
Who would enjoy driving the Kia Cerato?
Urban professionals: The Kia Cerato's modern design, advanced infotainment system, and fuel-efficient engine make it an ideal choice for a comfortable and stylish daily commute that reflects their sophisticated lifestyle.
Young families: The Cerato's spacious cabin, advanced safety features, and practical design provide a comfortable, secure, and efficient car for busy families needing versatility for daily errands and weekend getaways.
First-time car buyers: The Cerato's affordability, user-friendly features, and low cost of ownership make it a smart option for those entering the world of car ownership without breaking the bank.
Eco-conscious drivers: The Cerato's fuel-efficient engine and low emissions make it an appealing choice for drivers prioritising environmental responsibility and a balance between performance and sustainability.
Road trip enthusiasts: With a comfortable cabin, smooth ride, and generous boot space, the Cerato is well-suited for those who love long drives and exploring new destinations, while enjoying fuel efficiency and advanced infotainment features.
Kia Cerato price range:
Photo source: Mad4Wheels
The Kia Cerato design is a testament to the automaker's commitment to delivering a vehicle that combines style, comfort, and performance in a seamless package. Whether you are navigating the bustling city streets or cruising down the open highway, the Cerato promises an enjoyable and efficient driving experience. With its eye-catching exterior, comfortable interior, and advanced features, the Kia Cerato is a perfect choice for discerning South African drivers. Find a Kia Cerato for sale on Auto Mart and experience the exceptional craftsmanship and unparalleled driving experience that this remarkable sedan has to offer.