With its reputation for reliability, the Nissan NP300 dominates tough terrain. Renowned for its excellent capabilities, this pick-up is ready for any challenge that comes it's way. The NP 4×4 is a popular workhorse throughout Africa. Whether you need a rugged vehicle for business or pleasure, finding a Nissan NP300 for sale is a great choice. It is also well suited to an agricultural application. You can sell your vehicle or find a Nissan Hardbody for sale on Auto Mart.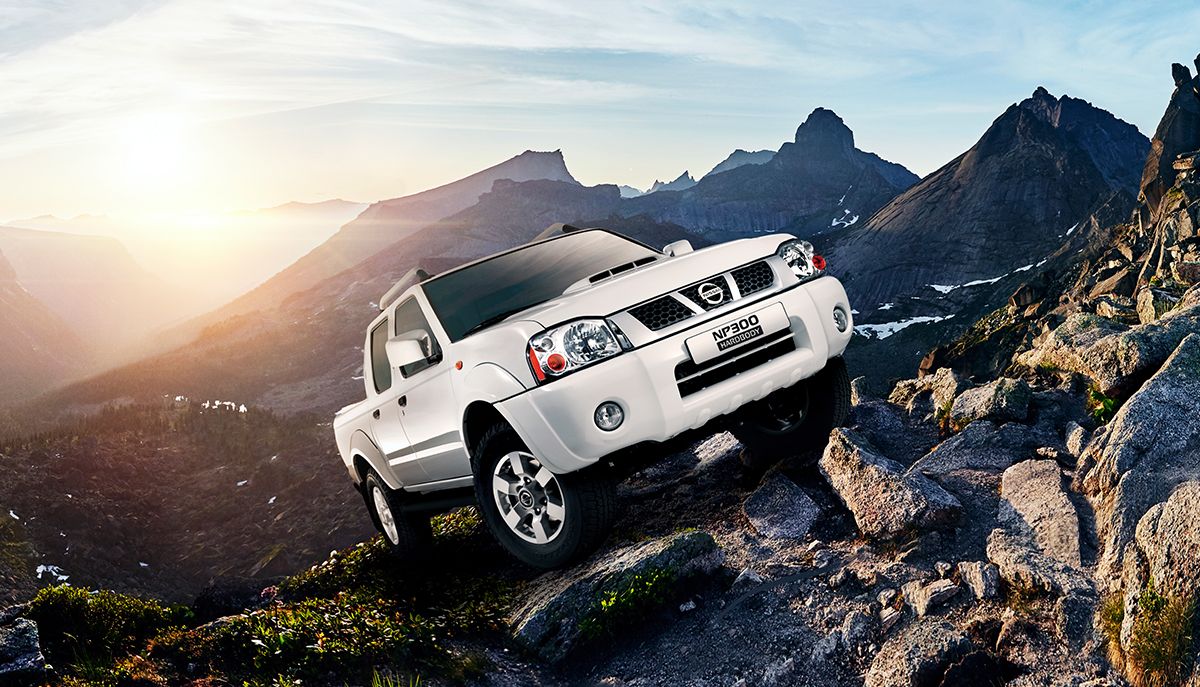 Photo Source: Nissan Africa
Nissan NP300 Exterior
The muscular exterior of the Nissan NP300 Hardbody is available in Arctic White, Bright Silver, Techno Grey and Infinite Black. With its rugged good looks and powerful performance, it is easy to see why South Africans pick this model over other bakkies for sale. You can also choose the body style that matches your requirements. Options include a 2WS or 4WD. You can also choose between a double or single cab model. The double-cab model has four doors and offers seating for five people. It has a load box of 1425 mm. The single cab has two doors and it can accommodate two passengers. If transporting cargo is your priority then this model is the right choice as it has a 2220mm load box. The NP300 boasts a tough tailgate that has extra-strength chains as well as a double skinned load box. Another highlight is its strong cargo hooks. The load box was designed to transport heavy loads conveniently and efficiently.
Convenience, Comfort and Safety
Not only is the Nissan NP300 an exceptionally capable workhorse, but it is also a comfortable and convenient vehicle to drive. The cabin has plenty of storage options which include door pockets as well as a glove box. Optional extras include air-conditioning and remote less key entry. You can also add power windows and door locks to your vehicle. Accessories include agricultural and business packages.
When it comes to safety the Nissan NP300 for sale has a range of protective features. True to the Nissan Safety Shield Philosophy, this vehicle is designed with the safety of its occupants in mind. The features are designed to monitor your vehicle's systems, offer the driver support during emergencies and offer protection if a collision occurs. Safety features include an Anti-Lock Braking System as well as an Engine Immobiliser. Dual front airbags are another safety feature of this model.
Specifications and Performance
The NP300's outstanding performance makes it a great business tool. It offers superior capabilities as well as cost-effective running costs. This model comes with a choice between two petrol engines. The 2.0-litre engine produces a maximum power of 84kW with a peak torque of 169 Nm. The 2.4-litre engine delivers an impressive 105 kW of power with a maximum torque of 205 Nm. The common rail turbo diesel engine outputs 98 kW of power with a peak torque of 304Nm. A 5-speed manual transmission, 4WD as well as a limited-slip differential increase the capabilities of this model.