The Audi A1 Sportback is a premium hatchback that has captured the hearts of many South African drivers. This German-engineered marvel boasts an impressive blend of style, performance, and practicality, making it a top choice for those seeking a refined driving experience. In this article, we will take a look at the A1 Sportback and all it has to offer. If you're in the market for a new car, look no further! Find an Audi Sportback for sale on Auto Mart and experience the difference today.
Exterior
The Audi A1 Sportback's exterior showcases a sleek and modern design with a dynamic, sporty stance. The car's bold front grille, striking LED headlights, and sculpted body lines create a powerful presence on the road. Its compact dimensions make it perfect for navigating tight city streets while still offering ample space for passengers and luggage.
Photo source: QuickPic
Interior
Step inside this vehicle and you'll be greeted by a sophisticated and luxurious cabin. The premium materials and meticulous craftsmanship are evident throughout the interior, with comfortable seats, an intuitive dashboard layout, and ample storage space. The high-quality infotainment system features a touchscreen display with smartphone integration, allowing for seamless connectivity and entertainment.
Performance
Under the hood, the Sportback packs a punch with its efficient yet powerful engine options. South African buyers can choose from a range of turbocharged petrol engines, delivering an engaging driving experience while maintaining impressive fuel economy. The available engines include:
1.0-litre TFSI: 70 kW
1.0-litre TFSI: 85 kW
1.5-litre TFSI: 110 kW These engines are paired with either a manual or S tronic dual-clutch automatic transmission, ensuring smooth and responsive gear shifts.
Design
The Audi A1 Sportback's design is undoubtedly one of its most appealing features. Its distinctive silhouette and sharp angles create an eye-catching look that sets it apart from the competition. The car's interior is equally impressive, with a combination of high-quality materials and innovative technology that makes every drive an enjoyable experience.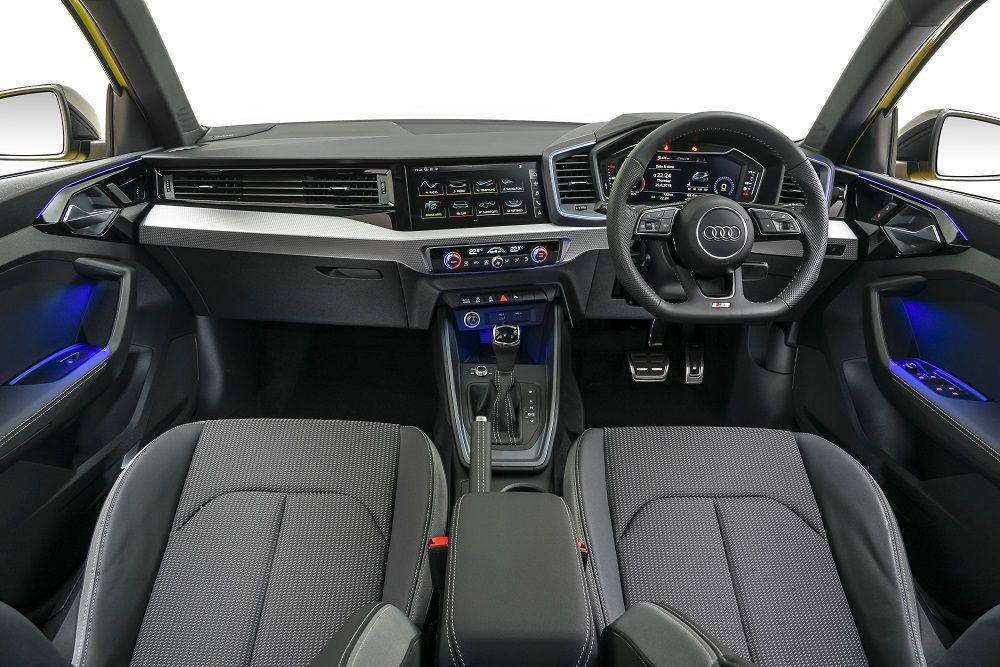 Photo source: QuickPic
Features
When you get into this car, you can expect to find it loaded with a variety of advanced features designed to enhance your driving experience. Some of these features include:
Virtual Cockpit: A customisable digital instrument cluster that provides essential driving information at a glance.
Audi Smartphone Interface: Connect your smartphone to the car's infotainment system for seamless access to music, navigation, and other apps.
Audi Drive Select: Tailor the car's driving dynamics to your preferences, with selectable driving modes for a customised experience.
Safety Features
Safety is a top priority for Audi, and the A1 Sportback is no exception. The car is equipped with a range of advanced safety features to help protect you and your passengers, such as:
Adaptive Cruise Control: Automatically adjusts your speed to maintain a safe distance from the vehicle ahead.
Lane Departure Warning: Alerts you if you unintentionally drift out of your lane.
Pre-sense Front: Monitors the road ahead and provides warnings or initiates emergency braking if a potential collision is detected.
Specifications
Length: 4 029mm
Width: 1 756mm
Height: 1 434mm
Wheelbase: 2 566mm
Boot Capacity: 335 litres (with rear seats up)
Extras
The A1 Sportback can be further customised with a range of optional extras to suit your personal tastes and requirements. These options include:
Panoramic sunroof: Enjoy an open-air driving experience with this stylish and functional addition.
Bang & Olufsen sound system: Upgrade your in-car audio experience with this high-quality, immersive sound system.
S line exterior package: Enhance the A1 Sportback's sporty appearance with upgraded bumpers, side skirts, and exclusive S line badging.
Advanced parking system: Simplify parking with the help of front and rear parking sensors, as well as a rear-view camera.
Auto Mart price ranges
Photo source: QuickPic
The Audi A1 Sportback is a premium hatchback that offers South African drivers a perfect blend of style, performance, and practicality. Its eye-catching design, luxurious interior, and advanced features make it an excellent choice for those seeking a refined driving experience. Find a Sportback for sale on Auto Mart and take the first step towards owning a car that truly stands out from the crowd. Experience the difference today and discover why the Audi A1 Sportback is the perfect choice for discerning South African drivers.