Find an Audi Q3 Sportback for sale on Auto Mart and experience the perfect combination of style, performance, and practicality. Designed with the discerning buyers in mind, the Q3 Sportback caters to their unique preferences and driving conditions. In today's article, we will explore various aspects of this exceptional vehicle, highlighting its exterior, interior, performance, features, extras, and safety features.
Photo source: QuickPic
Eye-Catching Exterior Elegance
The Audi Q3 Sportback boasts a sleek, sporty design with its sloping roofline, aggressive front grille, and sharp LED headlights. This coupe-like crossover exudes confidence with its bold shoulder lines and sculpted side panels. The dynamic turn signals and dual exhaust outlets add a touch of sophistication to the overall design. With its striking appearance, the Q3 is sure to turn heads on South African roads.
Step Inside Luxury
The Q3 Sportback's interior reflects Audi's commitment to quality and attention to detail. Premium materials and fine craftsmanship create a luxurious cabin experience. The driver-centric dashboard features a 10.1-inch touchscreen infotainment system with smartphone integration, while the optional Audi Virtual Cockpit elevates the driving experience. Passengers will enjoy ample headroom and legroom, along with versatile storage solutions and a generous boot capacity.
A Powerful and Agile Performance
The Audi Q3 Sportback for sale offers a choice of efficient turbocharged engines, providing both power and fuel economy. Paired with a 7-speed S tronic transmission and optional quattro all-wheel drive, the Q3 delivers a smooth, responsive ride. Its adaptive suspension ensures comfort on rough South African roads, while the Drive Select system allows drivers to tailor the vehicle's performance to their preferences.
Innovative and Advanced Features
Audi is renowned for its cutting-edge technology, and the Q3 Sportback is no exception. Discover the innovative and advanced features of the Q3 Sportback, designed to elevate your driving experience to new heights. With its cutting-edge technology and driver assistance systems, the Q3 Sportback ensures enjoyable and safe journeys on South African roads. Here are the top five features that set this exceptional vehicle apart from its competition: Cutting-edge infotainment system with seamless connectivity Optional Bang & Olufsen sound system for an immersive audio experience Adaptive cruise control for effortless long drives Lane departure warning to enhance road safety Parking assistance for easier manoeuvring in tight spaces
Photo source: QuickPic
Tailored Extras to Your Needs
Experience the versatility of the Audi Q3 Sportback with its range of customisation options that let you create a vehicle reflecting your unique style. From exterior paint colours to interior trim, upholstery choices, and wheel designs, the Q3 Sportback can be tailored to your personal preferences. Explore the following list of customization options and extras that make the Audi Q3 Sportback a standout choice:
Exterior paint colours for a personalised look
Interior trim options to match your style
Upholstery choices for added comfort and luxury
Various wheel designs for enhanced visual appeal
Wheel size options for optimised performance
Optional panoramic sunroof for an open-air experience
Ambient lighting packages to set the perfect mood
Advanced navigation system for effortless route planning
Audi Virtual Cockpit for a high-tech driving experience
Upgraded sound systems, such as the Bang & Olufsen option, for premium audio quality
Safety First with these Great Features
Audi prioritises safety, and the Q3 Sportback is equipped with numerous features to protect its occupants. These include:
Multiple airbags for comprehensive protection
Electronic Stability Control (ESC) for improved vehicle control
Anti-lock Braking System (ABS) for enhanced braking performance
Pre-sense front for potential collision detection
Visual and audible warnings for increased driver awareness
Emergency braking assistance for added safety in critical situations
What type of person would enjoy driving the Audi Q3 Sportback?
Trendsetters: They will appreciate the Audi Q3 Sportback's sporty and elegant design, making a statement on the road.
Tech-savvy individuals: They will enjoy the latest in-car connectivity, infotainment features, and optional Audi Virtual Cockpit.
Performance enthusiasts: They will value the responsive and agile driving experience offered by the vehicle's turbocharged engines and adaptive suspension system.
Safety-conscious drivers: They will prioritise the advanced driver assistance systems and safety features, ensuring peace of mind on the road.
Customisation lovers: They will enjoy personalising their vehicle with a range of exterior paint colours, interior trim, upholstery choices, and wheel designs.
Professionals and families: They will benefit from the versatile vehicle offering ample cargo and storage solutions, making it suitable for daily commutes and road trips.
Urban dwellers and adventure-seekers: They will appreciate a capable crossover SUV designed to handle various driving conditions and terrains, meeting their diverse needs.
Audi Q3 price range:
The Audi Q3 Sportback for sale is a remarkable vehicle that combines style, performance, and practicality to meet the diverse needs of South African buyers. Its eye-catching exterior design, luxurious interior, and impressive performance make it a standout choice in the competitive crossover market. With its innovative features, customizable extras, and focus on safety, the Q3 Sportback is an excellent choice for anyone seeking a versatile and stylish vehicle.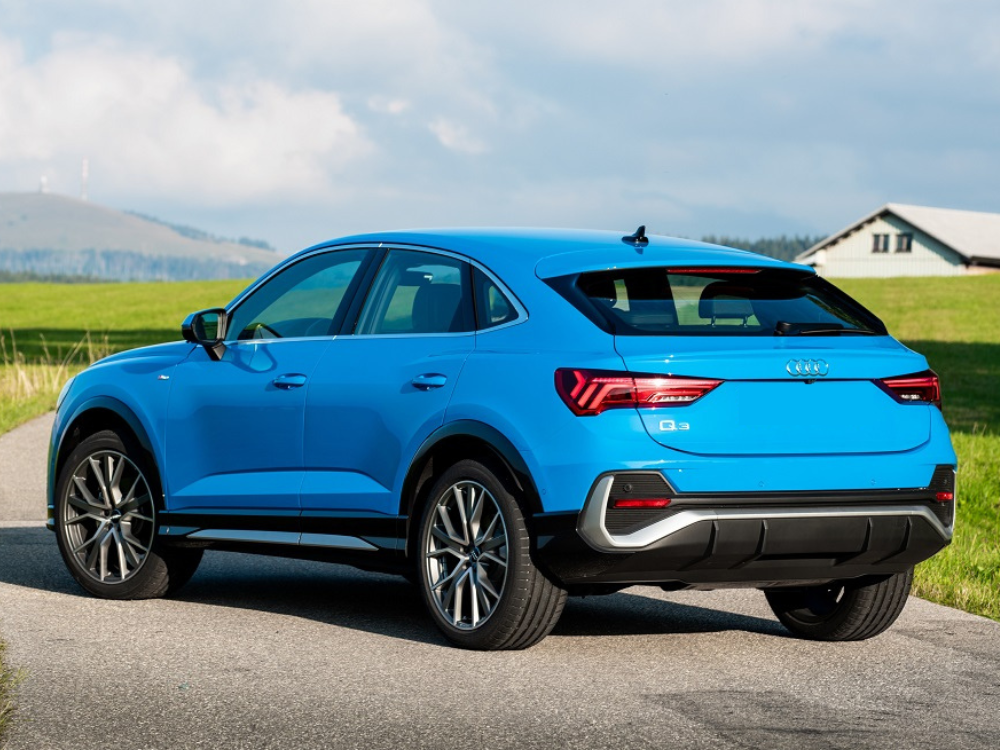 Photo source: QuickPic
Find an Audi Q3 Sportback for sale on Auto Mart and experience the perfect fusion of elegance and versatility. This coupe-like crossover is tailored to suit the unique preferences and driving conditions in South Africa, making it an ideal choice for discerning motorists. Don't miss the opportunity to get behind the wheel of this exceptional vehicle – explore the Audi Q3 Sportback for sale today.