When it comes to embracing the perfect balance between elegance, versatility, and performance, the Tiguan Allspace stands as a shining example in the automotive landscape. Combining the renowned Volkswagen craftsmanship with an extended body, this extraordinary SUV is a true marvel. For those seeking an impeccable blend of style, space, and power, the Tiguan Allspace for sale on Auto Mart is a captivating option that leaves a lasting impression.
Photo Source: Mad4Wheels
Exterior: A Captivating Presence
At first glance, the Tiguan Allspace's captivating exterior design demands attention. Its bold proportions are accentuated by sleek lines, a sculpted front grille, and striking LED headlights. The elongated silhouette of the Allspace variant adds an extra dimension of sophistication, making a bold statement on both city streets and winding country roads. The roof rails add practicality, while the variety of vibrant color options ensures that each owner can express their unique personality through their vehicle.
Interior: Spacious Luxury
Step inside the Allspace, and you're greeted by an environment of opulent comfort. The interior space is designed with meticulous attention to detail, offering ample room for up to seven passengers without compromising on comfort. High-quality materials adorn every surface, from the soft-touch dashboard to the premium upholstery. The optional panoramic sunroof creates an open and airy atmosphere, enhancing the driving experience for both the driver and passengers alike.
Performance: Commanding Power
Under the hood, the SUV offers a range of powerful yet efficient engine options. Whether you opt for the responsive turbocharged petrol engines or the torquey diesel variants, you'll find yourself immersed in a symphony of performance. The advanced engineering ensures that the car handles the roads with confidence, providing a smooth and controlled ride even on challenging terrains. The available all-wheel-drive system further enhances traction and stability, making every drive a pleasure.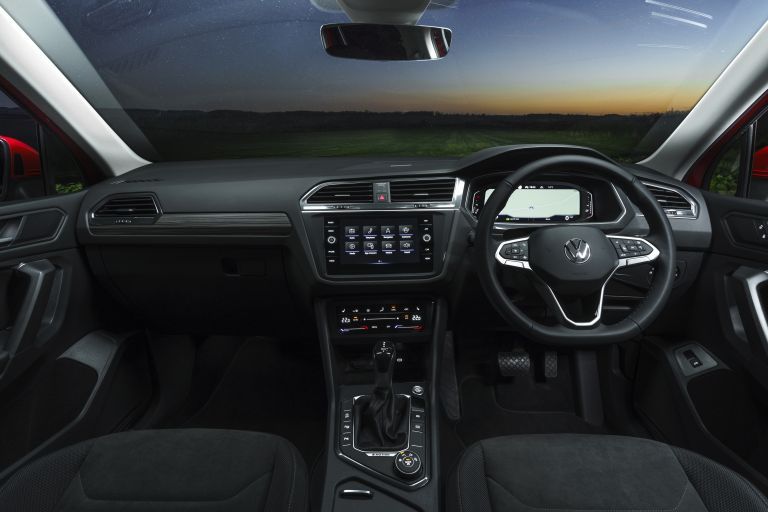 Photo Source: Mad4Wheel
Design: Harmonious Elegance
The Allspace's design is a harmonious blend of style and functionality. Its refined lines and carefully crafted details create an aesthetic that is both visually appealing and purposeful. The spacious interior seamlessly complements the exterior design, making the SUV a versatile companion for urban adventures or cross-country journeys. From its aerodynamic profile to the distinctive taillights, every element of the design serves a purpose, resulting in a vehicle that is as functional as it is eye-catching.
Photo Source: Mad4Wheels
Features: Technological Brilliance
The car is equipped with a plethora of advanced features that elevate the driving experience to new heights. The intuitive infotainment system seamlessly integrates with your smartphone, allowing you to access your favorite apps, navigation, and entertainment on the go. With convenient connectivity options and a premium sound system, each drive becomes an immersive journey. The available driver assistance systems provide an extra layer of safety and convenience, enhancing your confidence behind the wheel.
Safety Features: Your Well-being Matters
Volkswagen's commitment to safety is evident in the Allspace's comprehensive suite of safety features. From adaptive cruise control to lane-keeping assist, the vehicle is equipped with technologies that actively contribute to preventing accidents and keeping you and your passengers secure. Multiple airbags, a reinforced safety cell, and advanced braking systems add layers of protection, ensuring peace of mind every time you embark on a drive.
Specifications: A Closer Look
For those who appreciate the technical details, here's a snapshot of the Allspace's key specifications:
| Engine Options | Power Output | Transmission | Seating Capacity |
| --- | --- | --- | --- |
| Turbo Petrol | Up to 162 kW | 7-Speed DSG | Up to 7 passengers |
| Turbo Diesel | Up to 147 kW | 7-Speed DSG | Up to 7 passengers |
Extras: Tailored to Your Tastes
To further personalise your Allspace experience, Volkswagen offers a range of optional extras. These include adaptive LED headlights, premium alloy wheels, a hands-free power liftgate, and various interior trim options. This level of customisation allows you to create a vehicle that suits your preferences and stands out on the road.
Closing Thoughts
In the realm of SUVs, the Tiguan Allspace emerges as a remarkable contender that effortlessly combines elegance, versatility, and performance. Its captivating exterior, luxurious interior, and impressive array of features make it an appealing choice for car enthusiasts. Whether you're navigating city streets or embarking on a scenic adventure, the Tiguan Allspace's blend of style and substance ensures that each drive is a memorable one. So, if you're in search of a vehicle that embodies sophistication and power, look no further than the Tiguan Allspace for sale on Auto Mart. Experience the ultimate in automotive excellence and elevate your driving journey today.