The VW Tiguan Allspace has been making waves in the automotive world, and it's no surprise why. This exceptional SUV offers a unique blend of style, performance, and practicality that caters to the diverse needs of South African families. In this article, we'll explore the many aspects of this remarkable vehicle, from its eye-catching exterior to its comfortable interior, and its impressive array of features. So, if you're considering your next family vehicle, look no further. Find a VW Tiguan Allspace for sale on Auto Mart and discover why this SUV should be at the top of your list.
Image source: QuickPic
Exterior
The Tiguan Allspace boasts a dynamic and modern exterior design, which is both attractive and functional. This SUV features a distinctive grille, LED headlights, and a sleek, aerodynamic profile. The sculpted lines and sporty stance make it stand out on the road, while the wide range of available colours allows you to personalise your vehicle to suit your taste. With its attractive 18- to 20-inch alloy wheel options, the Tiguan Allspace is sure to turn heads wherever it goes.
Interior
Step inside the Allspace, and you'll find a spacious, comfortable cabin that can accommodate up to seven passengers. The high-quality materials, ergonomic design, and adjustable seating configurations make every journey a pleasure. The 3-zone Climatronic air conditioning system ensures that everyone on board stays comfortable, while the panoramic sunroof provides a light and airy atmosphere.
Performance
When it comes to performance, the VW Tiguan Allspace does not disappoint. South African buyers can choose from a range of petrol and diesel engines, offering excellent fuel efficiency and impressive power. The 4MOTION all-wheel drive system provides exceptional handling and stability on various terrains, making it perfect for tackling the diverse South African landscape. And with its 6-speed DSG gearbox, you can expect a smooth, responsive driving experience.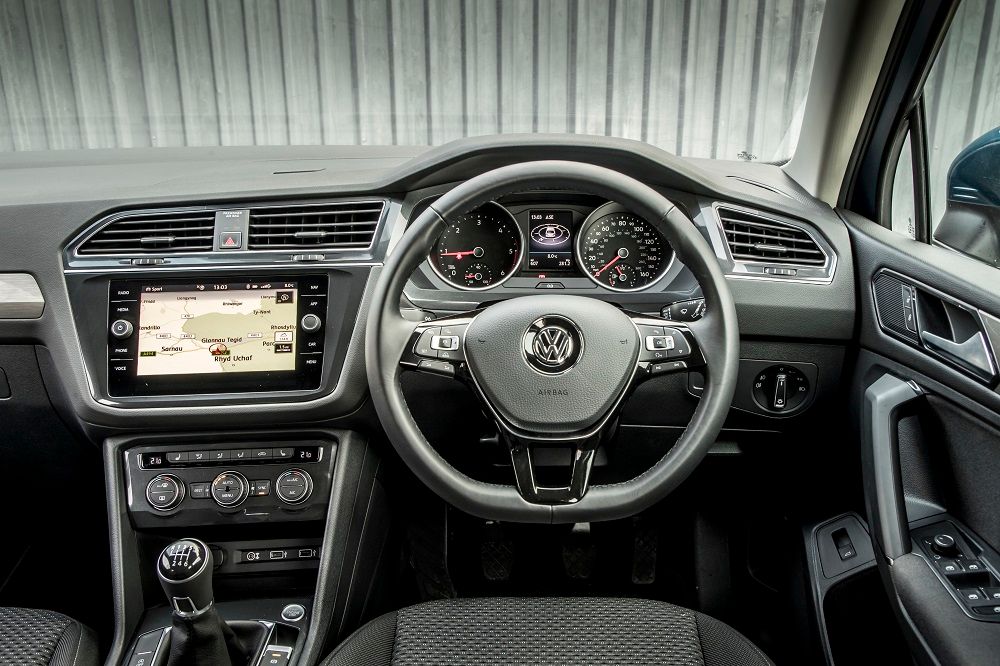 Image source: QuickPic
Design
The Allspace seamlessly combines practicality with style. Its versatile interior design allows for various seating configurations and ample storage space, making it the perfect vehicle for both daily commutes and family adventures. The modern dashboard layout, featuring a digital cockpit and touchscreen infotainment system, keeps you connected and informed while on the go.
Features
The Allspace comes equipped with a wide range of features that cater to the needs of South African drivers. Its infotainment system supports Apple CarPlay and Android Auto, allowing you to access your favourite apps and stay connected while on the move. Additionally, the SUV offers wireless charging for compatible devices, ensuring you never run out of battery life during your journey.
Safety Features
Safety is a top priority for the Tiguan Allspace, which is why it comes equipped with an impressive suite of advanced safety features. These include:
Adaptive Cruise Control
Lane Assist
Front Assist with City Emergency Braking
Rear-View Camera With its 5-star Euro NCAP safety rating, the Tiguan Allspace offers peace of mind for you and your family.
Specifications
Here are some key specifications for the VW Tiguan Allspace available for the South African market:
Engine options: 1.4L TSI, 2.0L TSI, 2.0L TDI
Power output: 110 kW to 162 kW
Torque: 250 Nm to 400 Nm
Transmission: 6-speed DSG
Fuel consumption (combined): 6.0 L/100 km to 7.7 L/100 km
Seating capacity: 7 passengers
Boot space: 230 litres (with all seats up) to 1,920 litres (with rear seats folded)
Extras
This Tiguan offers a variety of optional extras that allow you to further customise your vehicle. These include:
R-Line exterior package for a sportier look
Head-up display for enhanced driver information
Park Assist for effortless parallel and bay parking
Adaptive chassis control for improved ride comfort
Dynaudio premium sound system for an immersive audio experience
Image source: QuickPic
Price ranges on Auto Mart
The VW Tiguan Allspace stands out as an exceptional choice for South African families, offering a perfect blend of style, performance, and practicality. Its impressive exterior, spacious interior, and advanced features make it a vehicle that truly caters to the diverse needs of South African drivers. With its outstanding safety features and a wide range of customisation options, it's no wonder the Tiguan Allspace has become a popular choice in the market. Find a Tiguan Allspace for sale on Auto Mart and experience the ultimate family SUV for yourself.
---
Other Volkswagen vehicles on Auto Mart
Volkswagen Amarok for Sale: An Unstoppable and Refined Off-Roader