BY: AUTO MART STAFF WRITER
Simply visit www.automart.co.za from your phone, desktop or tablet.
The Auto Mart online car marketplace offers the widest section of general classified vehicle listings in one place. We have over 100 000 cars listed on our website at any given time. Our website is designed to make searching for a car simple, and the details below will give you a basic understanding of how users can enjoy searching for cars on our website.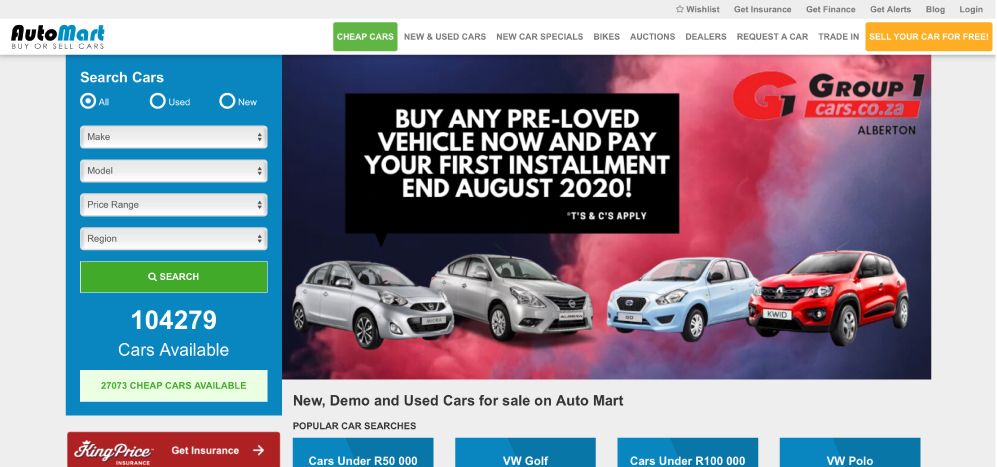 Search from our Homepage
When you're on the homepage, you are able to jump right in and perform an initial search that covers the following vehicle criteria:
Search by Make: This category lets users search by the OEM's (original equipment manufacturers) brand and covers every vehicle brand currently available in South Africa, from A to Z.
Search by Model: This category is linked to the MAKE category and allows users to filter their MAKE search by the different vehicle models, as manufactured by the relevant OEM.
Search by Price: To assist buyers in finding a vehicle that matches their price range, our price filter ranges from R10 000 up to R5 000 000 but can be customised once you are in the search results section.
Search by Region - Our network of dealers, private sellers, and website users stretches far and wide. We have buyers and sellers in all nine provinces across South Africa. Search for cars in your province here:
Refine your Search on the Results Pages:
On completion of an initial search using the homepage search bar menu, users are then served a results page that will provide an initial set of search results. This page will also allow users to further filter their initial search results. Below is a list of all the search criteria available (if you started with a blank search), but the criteria shown will depend on what you've already selected.
Make
Model (Based on Make selected)
Model Variant (Based on Model selected)
Condition (New, Demo & Used)
Price
Vehicle Shape (e.g. Hatchback, Sedan, SUV, etc.)
Year of Manufacture
Drivetrain (FWD, RWD, AWD & 4x4)
Fuel type/Power supply (Petrol, Diesel, Electric & Hybrid)
Transmission (Manual & Automatic)
Colour
Maximum Mileage
Once users have made their necessary selections, they will then be served all the advert listings that have matched their filtered search criteria. Use all the search options to find your perfect match or use a broad search to gauge what cars are on the market.
---
With the biggest online car marketplace in South Africa, it makes sense to shop the biggest selection of cars on AutoMart.